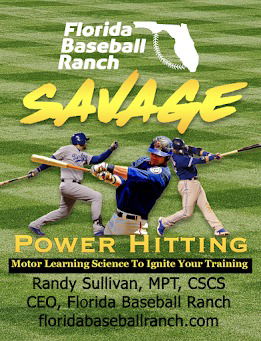 Before I begin I have to give a big Thank You to my life-time friend Randy Sullivan to allow me to bring to the Lake Norman and surrounding area SAVAGE TRAINING. Randy has spent thousands of hours over the years developing this program and I am so happy and thankful to be able to share this with you and train your child to become a SAVAGE Hitter.
Please visit Randy at
FLORIDABASEBALLRANCH.com
. Randy's system of training started with developing pitchers and listed below is a pretty impressive list and stats on how he has become a trusted name and pioneer in the training and rehab for pitchers from high school to the Major Leagues. I also highly recommend watching the movie LATE LIFE: The Chien - Ming Wang Story. Not only a inspirational comeback documentary movie of a former ace for the NY Yankee pitcher but will show you how trusted Randy at FBR is and how his training propelled Chien-Ming Wang back to the Majors.
FBR has helped Major League Stars Such as Justin Verlander, Jake Odorizzi and Ching Ming Wang Resurrect Their Careers
FBR has helped over 260 FBR Students develop >90 mph fastballs and more than 50 guys have broken 95.
Over the summer of 2017 and 2018, Ranch Guys have gained an average of 4.8 mph in 6 weeks and have improved command by 13..3%
Our students have signed over $10 million in college baseball scholarships
In the last two MLB drafts, FBR students signed collectively more than $12.1 million in signing bonuses. (including 14th overall pick Logan Gilbert)
We Reduce Or Completely Eliminate Arm Pain. Last summer athletes that reported arm pain of 4 out of 10 or higher left The Ranch PAIN FREE
Please contact Myself
Tim Jones
or
Randy Sullivan
on his website if you have pitcher in the family and need more information or would like to attend one of Randy's camps or even if you have a son experiencing arm pain that won't go away.