If you have made it this far down I am going to assume you or you have a son that is interested in becoming a SAVAGE HITTER. First let me tell you some facts about myself:
I am a 1985 graduate from THE CITADEL where I was All-Conference, All-Atlantic Region and Voted All - American 3rd Team behind Shortstops Barry Larkin and Joey Cora way back in the Stone Age.
Drafted 2nd round by the St. Louis Cardinals in the 1985 Amateur Draft.
Moved up A, AA, AAA every year in the Cardinal Organization until called up to the Majors in July 1988.
Went on to play with the Cardinals as a utility infielder for all or parts of 6 seasons '88-'93. I just couldn't beat out some guy named Ozzie Smith.
My childhood friend and college teammate Randy Sullivan of the Florida Baseball Ranch would be remiss if I did not mention he best me by .001 in career batting avg at The Citadel something like .347 to .346. Aargh (Bragging rights)
Now that I mentioned all that...does that make me a good baseball coach? Absolutely NOT!!!! Those are just awards. I have given baseball hitting lesson off and on for the last 23 years from St. Louis, Tampa and Little Rock. And while for the most part I loved it there were many times I felt I was not helping anyone. Mainly due to the fact a parent would hire me to give their son 1 or 2 hitting lesson and somehow that was going to change their son into some All-star. A lot of the time the kid wouldn't pick up his bat until it was time for another lesson. I"ll dive into this later but most of the lessons would consist of hitting of a tee with verbal cues like "keep the back elbow up", "Front shoulder down" and finally if they hit a line drive. "great Swing". We have now learned this type of training does not work well. When I look back at my early childhood and when I first started hitting a baseball, I practiced on my own with no verbal feedback for me to process. I knew I just needed to hit the ball hard. I would watch the Major Leaguers (Pete Rose was my man) and go hit 100 baseball off a construction cone I had. My dad worked 70hrs/wk when I was little so I did not have his verbal instruction or comments after each swing though I would have loved him there. I would swing and have to figure it out myself. In some way that is how we are going to train at Tim Jones' SAVAGE Hitting. There is not going to be a lot of talking but a lot of swinging. I will expect all my students to practice at home the corrective drills and exercises you will be given.
While I am not sure where this originated, I first learned of this by listening to my good friend Randy Sullivan at the Florida Baseball Ranch and I absolutely love it. It states that if YOU want to EXCEL in anything you choose, you MUST HAVE the 4 "Ds".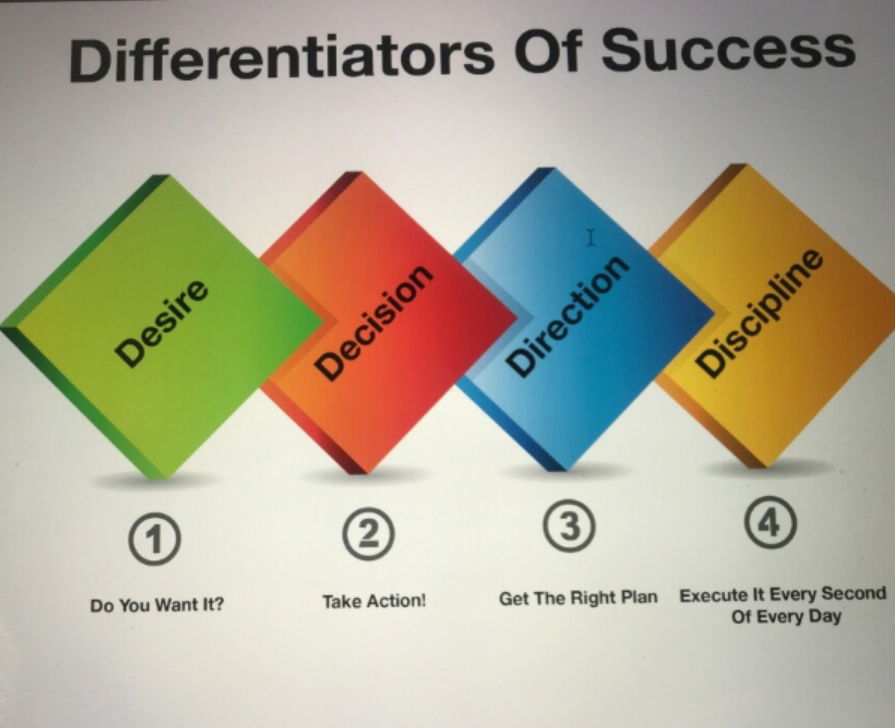 DESIRE: Just like it says in the picture. DO YOU WANT IT? How bad do you want it? Do not confuse desire with wishing. I really really wish I knew how to play the Guitar. I have always thought that would be one of the coolest things ever and I am jealous of the ones who can do it well. I even took lessons when I was little. Looking back I never had the desire to play the guitar. I just wished I could magically play everything, just like the pros.
DECISION: If you really have a desire to be a SAVAGE Hitter than you need to make the decision that today is the day I am going to TAKE ACTION!!!!. Benches are full of players who "wish" they were a better player. SAVAGE Hitters decide to train like one.
Sign up today. I want to help you achieve your dreams.
DIRECTION: This is where I step in and believe I am by far giving the best Baseball Training Program in the Country. My Training will be based on my good friend and high school/college teammate Randy Sullivan's SAVAGE POWER HITTING.
DISCIPLINE: This separates the boys from the men, the haves from the have nots, the studs from the bench warmers. If you are not ready to execute your SAVAGE personal baseball plan/drills everyday then you will never reach or know your full potential. I wished I could play the guitar. I DESIRED to dominate baseball. I loved baseball, I lived baseball, I practiced baseball everyday!
Discipline/Dedication will have to come from within you. I cannot help you there but I WILL expect it.
My students will be expected to practice everyday and understands that is what it will take to become a SAVAGE Hitter.